Fast and Reliable Flies Control Service in Perth Just for You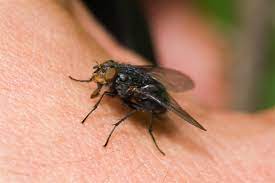 You will get disturbed too much when you see many flies sitting on food and then your kids eat them because it becomes a growing ground for many diseases. So, get ready to throw them out of your house with awesome fly removal services at 711 Pest Control Perth. We are so delighted to have you and you will be so delighted after getting our Flies Control Perth services. Our officials have a quick response time and our services are also very fast so you will get free from flies very quickly. Hence, do not go anywhere else, just call us on 08 6109 8161. We will give you a solution to every problem related to flies.
Get Certified Experts With Our Flies Control Services in Perth
We know that flies buzzing around you is so irritating and you want immediate relief from them. They are just a nuisance and put this nuisance out of your house with our certified services. Our company has been the leading flies control company for years and gives consistently good results and we are certified by the government. Therefore, avail of our effective fly control services with easy booking procedures and be assured that flies can not attack your home again for a very long time.
We Treat All Flies At Our Perth Fly Control Company
Flies are beneficial to the environment, but they also carry a variety of illnesses to humans. As a result, having fly control services on a routine basis is vital. We, on the other hand, are the specialists who provide Pest Control Perth services. We have the finest pesticide spraying equipment and devices to quickly eliminate these flies from your property. We've been in charge of business management for a long time and have plenty of knowledge in the sector. Our efficient service providers in Perth are our expert fly pest controllers, and their mission is to delight every customer.
Everybody will benefit from our services since we are cheaper than other firms in the market. You could hire us to get rid of any sort of fly on your home. When Perth people are looking for Flies Control Perth services, they contact us. Because we possess professional credentials, we are among Perth's most dependable and preferred businesses.
Flies Can Be Found in Perth
Bluebottle flies, cluster flies, Horseflies, fruit flies, and other insects are among the most numerous and well-recognised flies in Perth. These are mostly found mainly in Perth's suburbs. And getting rid of one of these insects is difficult. That is why it is suggested that you hire a Flies Exterminator. We can swiftly get rid of any kind of flies thanks to our extensive and in-depth understanding of flies. So, for Flies Control Perth service, contact our Proficient Flies exterminators.
In Perth, there are several different varieties of flies, and we can get rid of them all. Our Fly Management and Control Perth services will meet your flies removal needs.
We strive diligently to eliminate flies such as:-
Horseflies: Horseflies are huge and swift in flying, and they might be found in your house. Furthermore, these horseflies will fly around your house and might be a health hazard. So, don't overlook these problems and engage us for the Horsefly Control Services Perth team to get rid of them.
Bluebottle flies: Bluebottle flies are blue and are commonly seen near sweets. These insects are similarly brightly coloured, but they flutter so loudly. If you have blue bottle flies in your yard or house, contact our Flies Pest Control Perth experts.
Cluster Flies: Cluster flies are safe for humans because they aren't intended to lay eggs on edibles. However, if you see that they are annoyed, contact our Fly Control Perth experts.
Sandflies: Sandflies are a kind of dipteran that flies, bites, and suckers blood. These sandflies are usually found in sandy environments. However, if you have sandflies, you may come to us for assistance in getting rid of them.
Fruit Flies: Due to the taste of fruits, fruit flies are drawn to them the most. So, if you do not want to split your meal with them, engage us for Fly Control.
Explore Our Pest Control Services:-
As Local Flies Controllers: Available 24 Hours a Day, 7 Days a Week for Long-Term Fly Control Services
Our Flies Exterminators have been an integral part of our business and are irreplaceable. They have provided outstanding service to Melbourne citizens during our decades of service. And they've perfected the technique of the finest Flies Control Perth service to rid your home of flies. We are also accessible 24 hours a day, 7 days a week. From early dawn until past midnight, you can phone us. Moreover, although we are affordable, we use top-quality extermination tactics which are good for long-term benefit.
Why Must You Choose 24/7 Pest Control Perth To Remove Flies?
You should choose us above everyone else for a variety of reasons. It includes everything from our Flies Prevention methods to our decades of experience and competitive price. So, here are a few ways in which we are a smarter and better option for you.
Decades of Experienced: We develop and better ourselves as a result of our almost 2 decades of experience in the Flies Control Perth sector. Today, we are one of the greatest locations to go for Flies Control Services since we have the most effective ways.
Budget-Friendly: Our price has remained consistent with our customers' budgets. As a result, we ensure that people from all across Perth have the opportunity to work with us.
Experts who are fully licenced: Our Flies Pest controllers have all undergone the required Pest Technician Training. It enables them to possess the necessary licences in order to provide top-quality service to our customers at lesser costs.
Create your own safes: Flies carry dust, grime, and disease on their bodies, polluting the air and contaminating your meals. With Expert Flies Control Solutions, you can rid your home of these issues.
Hire Our Pest Treatment in All Your Nearby Cities at Affordable Rates
If you have a flies problem in your home or business, contact the experts at Top Flies Control Perth. We have a local team who works in all the suburbs of Perth like:-Darlington, Oldbury, Crawley, Northbridge, West Perth and other locations. We provide frequent inspections of the areas to ensure that no flies stay. We've become professionals in controlling flies thanks to our years of expertise. We assure you that you will be completely satisfied. Over the line, we provide free quotations. We are available in all the areas near Perth.
Reach Here
Flies Control Perth
Call 08 6109 8161 For Expert Pest Controllers
Location: Eastgate Building, 19/76 Newcastle St, Perth WA 6000